Fiber Optic Sensing is used across multiple industries to detect everything from leaks in pipelines to network intrusions. Using optical fiber as the sensor, events of all types can be detected and alarm notifications sent, stopping negative activities before they occur.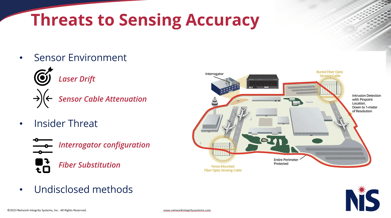 The question is: Is the fiber optic sensor you've invested in really detecting what you think it is? Does it have the same sensitivity in year 10 that it had on day 1? Has the system been tampered with so that that events are no longer being detected?
NIS' PULSE Sensor Verification System allows you to measure the effectiveness of your sensing solution on a continual basis.
With the PULSE™ Verifier, you can:
Detect any change in the state of your sensing system, scheduled or on-demand
Test on a schedule, or on-demand, with no interruption to intrusion detection
Make even the most sophisticated attacks exponentially more difficult
Click here to view a recorded webinar hosted by the Fiber Optic Sensing Association (
FOSA) to learn how, with PULSE, you can have automated, continuous verification that your sensor is operating as designed and intended for the life of the system.
Meet the Presenter:
Dave Cunningham, Vice President of Marketing for Network Integrity Systems, has served as a leader in the fiber optics industry for more than 20 years, including the TIA Fiber Optics Tech Consortium, TIA Standards, and the Hotel Technology Next Generation Group organizations. Dave was also the Founding Chairman and President of the Association for Passive Optical LAN. Most recently, Dave was the FOSA Board Chair for 2022. Dave said, "It is exciting to be a part of such a great organization and to work with all of the talented people that help execute the FOSA mission."