Network Integrity Systems (NIS), manufacturer of the INTERCEPTOR™ Intelligent-PDS™, will be introducing the VANGUARD™ Fiber Optic Network Monitoring System a solution for the Private Sector and Non-U.S. Government organizations at the BICSI Winter Conference, January 20-24 in Tampa, FL. VANGUARD leverages 10 years of Research & Development by NIS, including patented technologies and lessons learned from INTERCEPTOR deployments to address the unique requirements of other market verticals. INTERCEPTOR remains exclusive to the US Government as the best-of-breed PDS solution for protecting classified networks.
Like INTERCEPTOR, VANGUARD ensures the integrity and availability of network data by performing continuous monitoring of the critical network infrastructure, detecting any changes that would indicated tampering with the cable as a precursor to an attack or damage that could degrade network performance. NIS solutions and patented technologies are uniquely qualified to directly monitor data cables and provide flexible alarm management and response.
Visit us in our partner Envistacom's booth #532 to see VANGUARD as well as INTERCEPTOR integrated into complete Secure Passive Optical Network (PON) solutions. Envistacom – an expert in the design and engineering of GPON and Secure PON networks – has assembled a partnership of industry-leading companies to provide a complete Secure PON solution for both Public and Private Sector organizations.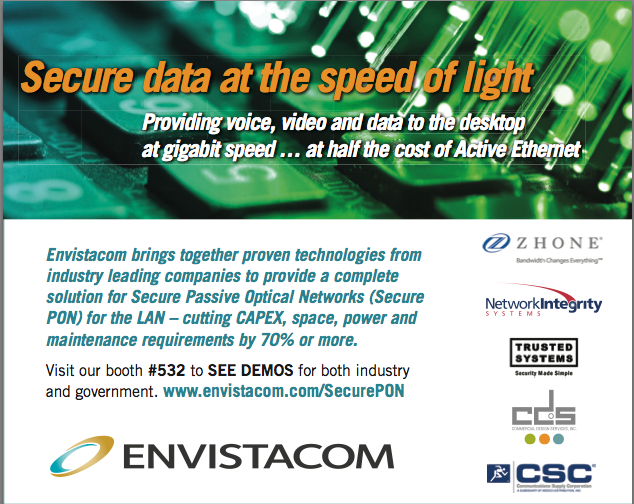 Click here for a sales sheet on the complete Secure PON solution.
Click here for more information about the 2013 BICSI Winter Conference.