Network Integrity Systems (NIS), manufacturer of the INTERCEPTOR™Optical Network Security System – an Intelligent™Protective Distribution System (PDS)
that ensures the integrity and availability of U.S. government and military classified networks – announces two new additions to our product line; the VANGUARD™ Fiber Optic Monitoring System, which addresses the ever-growing security needs of private enterprise, and the INTERCEPTOR LD² and VANGUARD LD², used to monitor long distance segments of optical networks.
VANGUARD Fiber Optic Monitoring System:Defense-in-Depth for Your Critical Network Infrastructure

Organizations are facing growing risks and threats to their data security and network availability. Until now, network defense in the private sector has been focused on data and cyber security, with the security of the physical layer of the network left unattended and thus vulnerable to harmful events.
VANGUARD was developed with technology and functionality similar to our INTERCEPTOR™ Optical Network Security System, which has protected U.S. government networks up to the highest levels of classification since 2003. As it is our policy to restrict INTERCEPTOR availability to the U.S. government and military, VANGUARD was developed in response to private enterprise and foreign government requirements for the same level of protection against:
Deliberate, covert acts intended to disrupt service or capture proprietary information using readily accessible data tapping and recording devices
Maintenance, environmental, or natural disaster incidents that cause damage and network downtime
At a time when political terrorism, government espionage and commercial espionage are occurring at a greater frequency, and with the continued widespread deployment of network infrastructure within publicly accessible areas, the threat level warrants the investment in layered counter measures which take into consideration the physical layer. The VANGUARD™ Fiber Optic Network Monitoring System ensures the integrity and availability of your network data by performing 24/7/365 continuous monitoring of critical network infrastructure.
Extend Your Secure Network to New Limits: LD² = Long Distance & Location Detection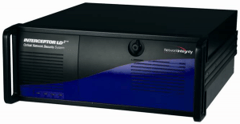 The INTERCEPTOR and VANGUARD products are designed for local area network (LAN) applications requiring inside plant zone cabling or point-to-multipoint network designs, or short distance outside plant protection between neighboring buildings. However, it is often necessary to protect cables spanned over long distances, for instance, across the expanse of a military base or in a wide area network (WAN). NIS is pleased to announce the addition of the INTERCEPTOR LD² and VANGUARD LD² models for this segment of the market.
The LD² versions offer a cost-effective, intelligent solution that will monitor up to 25 miles in single-ended networks and up to 50 miles in a ring configuration. This advanced network security monitoring technology can detect and locate an intrusion with 25-meter precision.
Like INTERCEPTOR, the LD² is an authorized PDS option and has past performance in successful deployments within the U.S. government and military.
With these product line additions, Network Integrity Systems products are now able to protect any size network, anywhere in the world, and for any type of organization.