Network Integrity System's products were featured as one of five "Elite Emerging Technologies" at a seminar held by Corning Cable Systems last week in Baltimore. The purpose of the seminar was to provide the attendees, consisting of telecommunications industry end-users, integrators and consultants, with a holistic look at products and solutions considered to be important new technologies of which they should be aware. Joe Giovannini, Vice President & Chief Executive Officer of Network Integrity Systems (NIS) conducted a presentation entitled Layer-1 Security for Critical Network Infrastructure featuring NIS's INTERCEPTOR Optical Network Security System (for U.S. Government and Military) and VANGUARD Fiber Optic Monitoring System (for Foreign Government and Private Enterprise). A product showcase was also held and featured both products.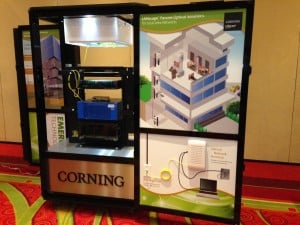 Other presenters included representatives from Corning, Juniper Networks, Zhone,Tellabs, and Leidos. Topics included: Structured Cabling Design Considerations for Network Monitoring, Data Center Designs, Passive Optical LAN, Layer-1 Security and Distributed Antenna Systems.
When asked about NIS' products being named "Elite Emerging Technologies" , Mr. Giovannini stated "It's obviously flattering to see our solutions included amongst those of these telecommunications leaders, but it is also great testimony to the importance they play in the industry".