The INTERCEPTOR CS is a network infrastructure cyber security solution consisting of the INTERCEPTOR Alarmed PDS and CyberSecure IMS. CNSSI 7003 complaint and the only system of its kind with a CoN, INTERCEPTOR CS provides an end-to-end solution which quickly and effectively allows organizations to check YES to everything on their compliance list.
The CyberSecure Manhole Intrusion Detection System protects against unauthorized access to underground critical infrastructure pathways by monitoring manholes, handholds and communications junction sites to detect entry.
When deployed together, these systems provide a complete defense-in-depth, critical infrastructure cyber security solution, which delivers 24/7/365 intrusion detection monitoring, allowing authorities to detect intruders in real time and catch perpetrators in the act.
Visit our representatives from CSC/WESCO, Net-Reps Inc, and Convergint Technologies at IPConfigure's Vendor Technology Day on Wednesday, December 9th in Norfolk and CSC/WESCO and Net-Reps at the Langley AFB Tech & Air Ops Support Showcase, Thursday, December 10th for a demonstration and to learn more about the INTERCEPTOR CS and Manhole Protection System solutions.
Not able to attend these events? Contact us for a personal demonstration and to find out how INTERCEPTOR CS allows you to check YES to everything on your compliance check list!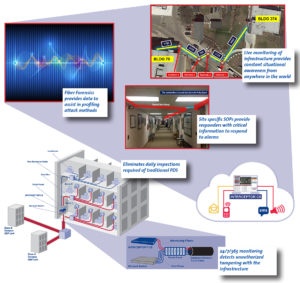 To learn more about the INTERCEPTOR CS solution, click here.
To learn more about the Manhole Protection System, click here.