Hickory, N.C. (August 15, 2022) - Network Integrity Systems (NIS), the leader in Converged Cyber & Physical security solutions, is pleased to announce that they have formalized an agreement with Mr. Jason Aguilar to join their industry leading Sales Engineering team.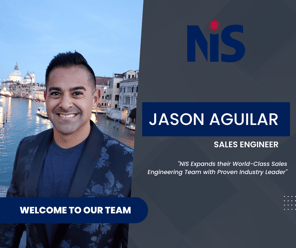 Jason Aguilar is a conscientious expert with 20+ years of experience in protecting some of the world's most secure facilities. Jason has merged his knack for engineering with his creative mindset to design, build and install state-of-the-art, secure sites around the globe. Jason's combined expertise across the technical and business industries has helped him make some notable marks in the Industry, to include becoming the youngest ever credentialed RCDD; establishing a business that ranked 387th in the Inc. 500 Fastest Growing Privately-Owned Companies in America; and expanding his business to achieve 778.5% growth in 3 years for distinction in the Inc. 5000.
Perhaps most of all, Jason prides himself on delivering client-centric solutions in business development and project management. He is a management maven with a keen ability to provide strategic recommendations to exceed program requirements through lead generation, team leadership, collaborative negotiations, and category supervision. "I felt this was a unique moment in time to bring my expertise to NIS. Cyber and perimeter security concerns are pervasive; NIS is the clear leader in converging cyber and physical security solutions in the U.S. Government and military market. Incorporating related optical sensing technology, NIS solutions are now being deployed across the private enterprise and critical infrastructure markets. I knew that joining the NIS team would allow me to participate in the proliferation of this vital technology that benefits the safety and security of our world." said Mr. Aguilar.
"Jason's primary role will be to accelerate growth for NIS across our target markets using the formula that resulted in the success of his last endeavors," said Mr. Kevin Frazier, VP of Sales.
Jason is a proud father, a passionate mentor, an involved volunteer with AFCEA Belvoir and co-founder of FIRA International, a nonprofit for orphans.