Viewpoint Project will feature Network Integrity Systems (NIS) in an episode titled "Innovative Companies Advancing Cyber Security Technologies." NIS was selected as the standout candidate among numerous companies in the cybersecurity industry. The unique aspect of NIS's technology, which focuses on the physical protection of data communication networks, set them apart from the other contenders. This approach addresses the "forgotten" layer of cyber security, highlighting the vulnerability to networks that often goes unnoticed. NIS's contribution to the series will emphasize the importance of physical protection as a key component of an organization's overall cyber security posture.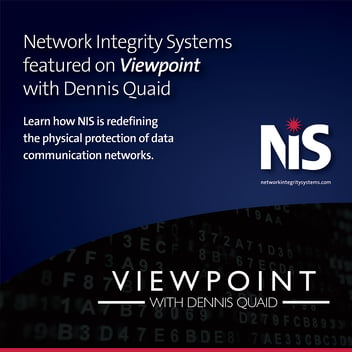 While respecting the confidential and often classified nature of their customer relationships, NIS discussed their core business sectors which include government, military, and cloud services providers. These sectors have recognized and addressed physical network vulnerabilities which can result in data theft or denial of service attacks and the critical need for physical cybersecurity measures.
This episode features NIS CEO and Co-Founder, Joseph Giovannini, NIS CTO Cary Murphy, and industry leaders from Global Com VA, a long-standing partner who integrates NIS solutions into U.S. Government networks. They discuss the following points:
A detailed explanation of the technology, how it works and the legacy security methods it replaced.
How risk mitigation is achieved through situational awareness of network infrastructure, particularly highlighting how this protection is essential to protect critical information.
Why Global Com gained a market advantage by offering their customers an advanced level of security and uptime, assuring their customers compliance with government policies.
A discussion on the significance of this level of protection for all industries, emphasizing its broad relevance beyond the government and military sectors.
Viewpoint Project with Dennis Quaid is an award-winning platform specializing in short-form Public Television stories, Viewpoint Project highlights specific industries and topics worldwide. The show features industry professionals and groundbreaking organizations as content providers, making each episode a captivating journey. The extensive list of past guests reads like a "Who's-Who" of influential figures in various fields.
The Viewpoint Project aims to change lives for the better by providing insightful and thought-provoking content. Dedicated to developing and distributing social and educational programming, the project delves into subjects ranging from local communities to global issues. Each story shares one common goal - enlightening viewers and sparking positive change.
Network Integrity Systems has applied its expertise in optical fiber monitoring to prevent physical, cyber attacks on network infrastructure. Our solutions perform continuous analysis of cables, pathways, and points of vulnerability and look for intrusions that occur as a precursor to a physical, cyber attack (tapping, theft of data) or damage that could degrade network performance or availability. For a free consultation, contact us.