Hickory, N.C. - Network Integrity Systems (NIS), the leader in Converged Cyber and Physical Security Solutions, is pleased to announce that we have appointed Sergeant First Class Adam Millan, USA, Retired, to our team in the position of Applications Engineer.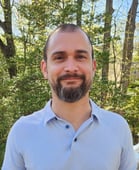 With over two decades of experience in military IT and Communications, Adam Millan brings a wealth of knowledge to NIS as Applications Engineer. Following his retirement from the US Army, Millan utilized his extensive expertise contracting as a Senior Systems Administrator. He is a valuable asset to NIS as we continue to expand our security solutions in both the Gov/Mil and Private sectors.

"I am really looking forward to this new opportunity with NIS.", said Millan. "Being able to apply state of the art security concepts to customers around the globe is something I am excited about, and I look forward to bringing my skills to the NIS team."
Kevin Frazier, VP of Global Sales at Network Integrity Systems added, "With the rapidly accelerating demand for our security solutions, NIS must grow our installation services team to ensure we are meeting our customer's needs. Adam will do a great job ensuring defense-in-depth security for our customers."
Adam resides in Burke, VA with his wife and two teenage children. He will support Network Integrity System's deployments globally.