Hickory, N.C. - Network Integrity Systems (NIS), the leader in Converged Cyber and Physical Security Solutions, is pleased to announce that we have added Tanner Morris to our team in the position of Systems Technician.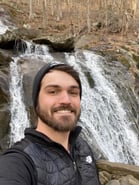 NIS is dedicated to delivering groundbreaking security solutions to our clients. Our demo centers offer an up-close and personal opportunity to experience our state-of-the-art technologies firsthand. As our newly appointed Systems Technician, Tanner Morris will be responsible for ensuring our demo centers, including our product display vehicle, showcase working demonstrations of our complete solution set. Tanner will also work alongside our Services team to ensure flawless project implementation, further solidifying NIS as the go-to provider for converged cyber and physical security solutions.
With a diverse background in industries ranging from manufacturing to online marketing, Tanner brings a wealth of experience to his role as Systems Technician at NIS. Additionally, Tanner's passion for photography, videography, and drone operation will enhance our demo capabilities and elevate the overall customer experience.
"I am thrilled to join Network Integrity Systems", said Tanner. "I could not be more excited to work with such a talented and dynamic team. "I am eager to contribute to the evolution of network and perimeter security," Tanner stated.
Based in Virginia, Mr. Morris will be a valuable addition to Network Integrity Systems and will support our operations across the United States.